Domain Érvényesített SSL
Biztosítsa webhelyét mindössze néhány perc alatt!
Mi az a Standard DV SSL?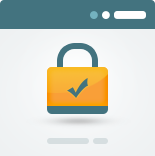 A domain érvényesítési tanúsítványok gazdaságos és gyors módszert kínálnak az SSL-nek az Ön webhelyére történő bevezetésére. Domain Validált tanúsítványok igazolják, hogy a domain tulajdonosa, de nem végez további szervezeti szintű érvényesítést.
Domain Validált tanúsítványok ideálisak személyes webhelyekhez, blogokhoz és közösségi médiához, vagy olyan webhelyekhez, amelyek nem adnak privát és bizalmas információkat. A domain validált tanúsítvány aktiválja a böngésző lakatot, és lehetővé teszi a https használatát annak biztosítása érdekében, hogy webhelye látogatói és ügyfelei komolyan vegyék figyelembe az adatvédelmet.
Delivered in Minutes for Instant Protection
The fastest and most affordable way to activate SSL protection for your website, issuance is quick and often fully automated.
Trust Site Seal
Our SSL Certificates come with a trust seal that has been proven to increase visitor confidence and customer conversions.
Boost your Google Ranking
Google uses SSL/HTTPS as a factor in determining search engine ranking. Add SSL today to help boost your Google ranking!
Certificate Features
99.9% Browser Compatability
Recognised & Trusted Brand
We only sell SSL certificates from the most trusted brands in Online Web Security