Szervezet Érvényesítés SSL
A nagy biztonságú SSL a webhely látogatóinak hitelesített azonosságát mutatja
Mi az SSL Szervezeti Érvényesítése?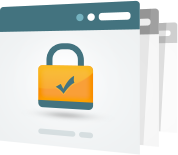 A Szervezet Érvényesített SSL-tanúsítványai azonnali azonosítási megerősítést és erős SSL-védelmet nyújtanak webhelye és üzleti tevékenysége számára.
Az OV SSL egy szervezet által hitelesített tanúsítvány, amely növeli a webhely hitelességét a tartományvezérelt SSL tanúsítványokon. Aktiválja a böngésző lakatot és https-et, bemutatja vállalati identitását, és biztosítja ügyfeleinek, hogy nagyon komolyan veszi a biztonságot. A webhely látogatói ellenőrizhetik, hogy a webhelyet törvényes cég működteti-e, és nem egy szabályozó webhely.
Contains your Authenticated Organization Details
Certificate details indicate your website is using an Organization Validated SSL Certificate and include the issuing CA, validity status and expiration date.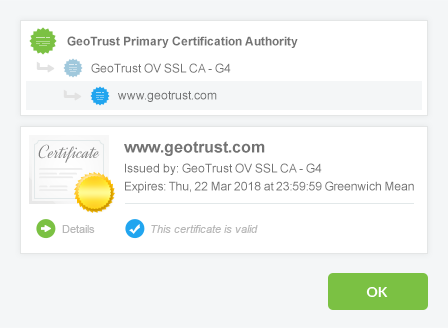 Organization Validated
With an OV SSL Certificate, the identity of the company or organization that holds the certificate is validated, providing more trust for end users.
Trust Site Seal
Our SSL Certificates come with a trust seal that has been proven to increase visitor confidence and customer conversions.
$1.25m Warranty
OV Certificates come with a $1.25m warranty that covers data breaches caused due to a certificate flaw.
Certificate Features
99.9% Browser Compatability
Recognised & Trusted Brand
We only sell SSL certificates from the most trusted brands in Online Web Security