Wildcard SSL
Biztonságos korlátlan aldomaineket egyetlen tanúsítványon.
Mi az a Wildcard SSL tanúsítvány?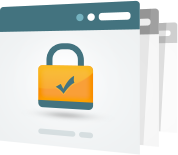 A Wildcard SSL lehetővé teszi, hogy korlátlan számú aldomainet biztosítson egyetlen tanúsítványon. Ez egy nagyszerű megoldás mindazoknak, akik ugyanazon a domainen több webhelyet vagy oldalt tárolnak vagy kezelnek. A tanúsítvány egyszeri költsége kiterjed a további aldomainekre, amelyeket a jövőben hozzáadhat.
Szabványos SSL tanúsítvánnyal ellentétben, amely csak egyetlen teljesen minősített domainnévre vonatkozik, pl. www.yourdomain.com, ami azt jelenti, hogy csak arra használható, hogy biztosítsa a pontos domaint, amelyre kiadták, egy Wildcard SSL tanúsítványt ad ki a * .yourdomain.com címre, ahol a csillag az összes lehetséges aldomainet ábrázolja.
A Wildcard SSL egy opció DV és OV SSL tanúsítványok számára.
Delivered in Minutes for Instant Protection
The fastest and most affordable way to activate SSL protection for your website, issuance is quick and often fully automated.
Trust Site Seal
Our SSL Certificates come with a trust seal that has been proven to increase visitor confidence and customer conversions.
Boost your Google Ranking
Google uses SSL/HTTPS as a factor in determining search engine ranking. Add SSL today to help boost your Google ranking!
Certificate Features
99.9% Browser Compatability
Recognised & Trusted Brand
We only sell SSL certificates from the most trusted brands in Online Web Security